Vertech Plant Centre, York
Visit Vertech Plants Centre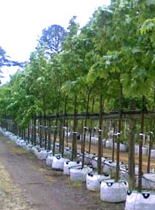 The Vertech Plants Centre is located near York, North Yorkshire, U.K. Our full range of wonderful large plants and trees is displayed. See the catalogue for our full stock listing.
The centre is situated in an ancient 3 acre walled garden within a private estate. Viewing is by appointment through the Vertech office.
To make an appointment you can contact us via post, telephone, or email.
Four reasons why you should visit Vertech Plants:
Inspiration for garden design.
To see one of the widest collections of large-scale plants and trees.
To select personally and buy the best large plants and trees available.
All plants and trees are container grown and can be planted at any time of the year.
More Information